Dental Implants in Lake Charles LA
---
Why Choose Dental Implants
Dental implants are the teeth replacement options that most closely resembles natural teeth in look, feel, and function. They are also extremely instrumental in restoring and maintaining jaw health & shape. Implant teeth allow for stimulation of the jaw, by enabling chewing to occur, preventing oral bone loss, and preserving gum tissue.
Dental implants also maintain the natural contours of your face and improve your appearance as nature intended it. When you lose a tooth, adjacent teeth begin to shift; however, implants stop movement, damage, and misalignment from happening.
Don't Settle for Missing Teeth!
Dental implants are natural-looking replacement teeth that can renew your smile. Contact us today to schedule an appointment!
Why Choose an Oral Surgeon for Dental Implant Surgery
While many dentists place dental implants, oral surgeons are implant specialists who place implant teeth on a daily basis. Oral surgeons are dentists that have received 4-6 years of advanced specialty training beyond dental school. We have undergone extensive hospital training, including anesthesiology, internal medicine, emergency medicine, intensive care, general surgery, ENT, plastic surgery, and neurosurgery. The level of advanced training that oral surgeons like Dr. Boudreaux and Dr. Fisher have undergone ensures a more comfortable, predictable, and successful dental implant experience. We provide continuous training through Synergy training programs to keep ourselves and our referring dentists current with quickly changing technology.
Additionally, our oral surgeons have specialized equipment and materials close at hand, and offices like ours, stocked with instrumentation specific to oral and maxillofacial surgery, allow for our doctors to perform procedures quickly, accurately, and conveniently. We use Zimmer and Straumann implant systems, two of the largest global implant companies with decades of data supporting their implant longevity. Our level of expertise in placing implants is superior to others, and we provide options of routine to complex bone grafting, which is occasionally required for proper implant longevity foundation.
The Dental Implant Process
We work hand in hand with training our restorative doctors for more esthetic and functional results to ensure you receive the best, most comprehensive care possible.
At the initial consultation, we perform a comprehensive oral exam and gather your medical and dental histories, as well as anatomic conditions & information about your oral cavity with a clinical evaluation, and 3D radiographic images.
Treatment planning begins immediately and includes but is not limited to: determining details specific to you and your case, such as the number of teeth you need to have replaced, what type of dental implant will be used, and the current condition of your remaining teeth and jawbone.
The stages in the implant process are as follows:
Removal of the damaged tooth, if necessary
Bone grafting to prepare your jaw, if necessary
Dental implant placement
Bone growth and healing of the implant (osseointegration)
Verification of complete osseointegration
Placement of custom abutment
Placement of crown restoration (by your dentist of choice)
Since the entire process of implant placement is fairly extensive, we encourage you to take your time and not be in a hurry to rush through it. We space out each of the stages in the series of out-patient procedures to ensure sufficient healing and the growth of new bone in your jaw.
---
Dental Implants Financing
Do you offer payment plans or financing?
We do! We want to do everything we can to help you get a smile you love, so we provide financing options, including CareCredit, and we help file with your insurance as well.
Does insurance cover dental implants?
We understand that navigating insurance coverage can be overwhelming, so as a courtesy to our patients, we are happy to file insurance claims and seek out the answers to your questions for you. Unfortunately, it's not very common for insurance to pay for implants. However, when you come in, we will help you understand your benefits and determine which steps in the process may be covered.
Understanding the Cost of Dental Implants
Quality care may cost more upfront, but in the long run, implants are the most affordable option. Dental implants last three to six times longer than traditional teeth replacement options, like dentures and bridges. They also ward off costly dental expenses down the road, by helping to maintain jawbone mass. Dental implants save you money in the long run. Studies support that at year 6, the dental implant is a more cost-effective purchase over root canal & crown/bridge therapy.
Beware of "Dental Vacations".
Dental care in other countries is cheaper because it lacks educational accountability and consistency. Have your dental work done at home in Lake Charles where our oral surgeons' qualifications and credentials can be fully trusted. Our surgical services and care pass the most stringent sterilization guidelines & are always set the bar to a new level for the standard of care. From training and education to rules and supervision, American oral surgery practices like ours are held to a higher standard of care.
If you still have questions about the cost of dental implants at Lake Charles Oral Surgery Specialists, please call us at Lake Charles Office Phone Number 337-478-0468!
---
Frequently Asked Questions About Dental Implants
Do dental implants look real?
Dental implants are today's superior teeth replacement method because they look, feel, and function like your natural teeth.
Is the procedure painful?
Not at all. We keep the surgical site numb throughout the dental implant procedure, and you will be under MAC anesthesia (mild intravenous sedation) during surgery to ensure you're comfortable the entire time. As the anesthesia wears off later in the day, you'll be able to manage any discomfort with over-the-counter medication, such as Tylenol and ibuprofen.
Will I be able to eat food?
In the first few weeks, you'll want to avoid crunchy, sticky, chewy, spicy, acidic, and hot foods because the surgery site will still be healing. However, once your healing is complete, your chewing strength will be similar to that of your natural teeth, and you'll be able to enjoy all your favorite foods.
How long is recovery?
The length of your recovery and the speed with which you will heal depend on the quality of your jawbone and the location and size of your new implant. You can typically expect the initial healing to take a week or two, and the complete integration of implant and jawbone to take around three to four months.
Will dental implants change my face?
Dental implants will transform your appearance in the best ways. You can say goodbye to discolored, crooked, or missing teeth and hello to a gorgeous new smile. Dental implants not only change your face for the better, but your self-esteem will prosper as well. If you're concerned about the natural contours of your face, implants preserve those while improving your look overall.
Can dental implants fail?
Dental implants can fail, but our in-office success rate of 98% is vastly superior over that of the national success rate overall of 94%. You are in good hands with us.
Can dental implants be done in one day?
Yes and no – it depends on your specific case. We believe no one should have to walk around with a missing tooth, so we provide the opportunity to receive an implant in a day. However, the temporary crown that we insert is a place holder until full integration is complete at which time, we place the permanent restoration. We work with your referring dentist to provide temporary options as desired, during the above-mentioned integration process.
Are dental implants permanent?
Yes. Permanency is one of the biggest advantages of dental implants. Over time, the implant fuses with your jawbone and forms a solid and permanent attachment.
Can I get an implant for a single tooth?
One of the life-changing advantages provided by implants is their ability to integrate with your jawbone. The biocompatibility of the material we use allows the implant to fully integrate with the bone and form a mechanical bond. The implant is the base upon which we build your replacement tooth. And this permanent stability can be used to support a new single tooth, multiple teeth, or an attachment of dentures.
Are You Ready to Reclaim Confidence in Your Smile?
Dental implants can replace missing teeth and restore your smile. Contact us today to schedule an appointment!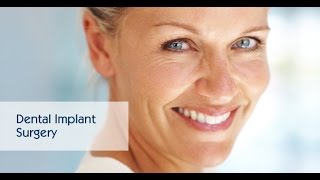 "Don't be afraid to Smile."
For years I'd felt like a part of my body was missing — because my teeth were. My dentist told me that dental implants would make me feel and look a lot better. OK, I said. Now, I'm thrilled. I can smile, eat anything, and enjoy a good laugh with my friends.
---
Lake Charles Oral Surgery Specialists
5
out of
5
stars based on
27
Dental Implants reviews.
---
Our Latest Patient Testimonial
These guys are amazing! Dr. Fisher and his staff are friendly & professional. Highly recommend these guys!!!
- Scott A
Our Latest Patient Testimonial
Dr Boudreaux & staff are incredible. My second implant with them. Start to finish - absolute 5 star experience. I wouldn't trust anyone else for oral surgery needs
- Jane P
Our Latest Patient Testimonial
I was apprehensive to have an implant placed but Dr. Fisher and his staff were very thorough and walked me through the entire process. I love my new tooth!
- Katie H
Our Latest Patient Testimonial
I highly recommend Dr. Boudreaux and his staff.
- Clare P
Our Latest Patient Testimonial
Dr. Boudreaux and Rhonda put me at ease and wanted to make sure that I was comfortable before beginning the procedures. I was very pleased with the kindness and courtesy that I was shown. I look forward to healing and having my mouth return to "normal" after this long process. I am blessed to be their patient, thanks to Dr. Sara Phillips.
- Sara Jane R
Our Latest Patient Testimonial
Dr. Boudreaux and his staff are incredible!
- David R
Our Latest Patient Testimonial
Dr Boudreaux is an excellent Dr that does a superb job even with the check-in calls post surgery to both see how patient is doing and giving follow-up details on how it went and how to continue proper care.
- Kerry A
Our Latest Patient Testimonial
I thank Dr Boudreaux and his staff for their excellent care and service. I have recommended him to family members and friends.
- Lester L
Our Latest Patient Testimonial
I love Dr. Boudreaux and his entire staff. They are courteous, friendly and go above and beyond to assist with needs. Love that Dr. Boudreaux called to check up on me after my procedure.
- Barbra P
Our Latest Patient Testimonial
Dr. Boudreaux is professional, courteous, and friendly. He made my oral surgery experience as easy and pain-free as possible.
- Kathleen H
Our Latest Patient Testimonial
Our Latest Patient Testimonial
Thank you for making me feel cared for.
- Angela B
Our Latest Patient Testimonial
Thanks the surgery went awesome, was treated like a million bucksThanks everyone.
- Sybil L
Our Latest Patient Testimonial
Dr. Boudreaux did an awesome job on my dental implants! He is so personable, knowledgeable, and great at what he does! I know this probably isn't said much about oral surgery but it was a great experience! I will be referring any friends and family members needing oral surgery procedures to him! Thanks!
- Holly S
Our Latest Patient Testimonial
Great service from an excellent staff.
- Donald G
Our Latest Patient Testimonial
Dr Boudreaux and his staff is very courteous and caring. Dr Boudreaux called me to check on me 4 hours after the procedure to check on me.
- Lester L
Our Latest Patient Testimonial
LCOS made my dental implant such a smooth process! Highly recommend them for oral surgery needs.
- Debbie S S
Our Latest Patient Testimonial
I love Dr. Boudreaux and his staff.
- Tina B
Our Latest Patient Testimonial
Very professional and I felt comfortable throughout the whole experience. Dr. Boudreaux and staff do an excellent job to make you feel informed about what to expect from the procedure.
- Lewis W
Our Latest Patient Testimonial
Very friendly and knowledgeable. Made me feel comfortable during my procedure
- Dwayne W